About Our Puppies
About Our Puppies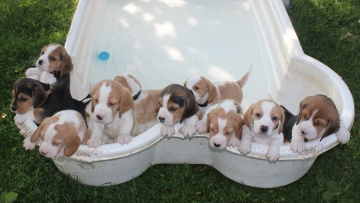 Our puppies are whelped in our home and given lots of love and human contact right from day one. They become part of our family and are very well socialized by the time they leave us for their new homes. We are totally committed to placing our puppies with screened, loving families. We are very protective of our pups and want to be absoultely certain they are being placed in only the best of homes.
We WILL NOT sell our puppies to pet shops or for breeding purposes. We also do NOT ship our puppies. Our pups are sold under a "Limited Registration," except for our show prospects. This does not mean our puppies are not registered with the AKC or that our pups are less important. It only means that if new owners later decide to breed their puppy, the litter from that breeding would not be eligible for an AKC registration. This is our way of protecting the pedigree of our puppies.
Our pups are given their first puppy shots, de-wormed, and a health guarantee before they leave our home. Microchipping is also available as an option for new puppy owners. New puppy owners will take with them, A packet from Purina, a 5 generation pedigree on both the sire and dam of the litter, a complete shot and worming record for your first vet appointment, and their AKC registration papers.

Making sure your puppy has the best possible start as the newest member of your family is our main goal. And remember, I am ALWAYS just a phone call or e-mail away if you need further assistance or support. My job does not end the minute I kiss your puppy good-bye. In fact, we not only encourage communication throughout your beagles life, but we work hard at achieving that goal.
In the Spring and then again in the Fall, NJ Beagles holds a beagle meet at the Wantage Dog Park in Wantage, N.J. where many of our beagle families attend and get to reunite their beagle with some of his/her littermates. It's a great day for ALL, especially the hounds. Click here to see some of the fun from those meets.

---
These are just some of the things we offer to try to keep our families connected. Many of our families stay in touch with us over the years, but then there are some families who pick up their puppies and you never hear from them again, and that's sad.... That's not what we want. We want our people to stay in touch. To keep us posted on the progress of their puppy. We care about our pups and want to hear about them, see photos, and get updates from time to time, so if you should happen to get a puppy through us, please remember this because, after all, we did love them first!