R.I.P Jack 9/29/00-2/17/10
Our Beagle Jack passed away today after a short battle with kidney failure. He was our first pet and was a GREAT dog. We purchased Jack for a kennel in princeton on 1-1-2001. Our son David was 1 year old when we got him and they grew up like brothers. Jacks loved running around in our yard and spent countless hours sniffing out rabbits and squirrels in our yard. One of my favorite memories was when he saw a groundhog and went to chase it and it didnt run but stood up to him and swatted him in the snout, poor jack didnt know what to do and yelped and turned around and ran away.

To our puppy Jack, you will be greatly missed.
Sonny Coles

2/14/1996 - 2/18/2010

Well Sonny was 14 years and 4 days old. I saved him from going to a pound when he was 10 weeks old. He was born on valentines day and was full of nothing but love and happiness. He was a wild one when he was younger, did it all from eating shoes to stealing napkins out of the trash. When he was a little over 5 years old he suffered his first seizure, and was diagnosed with epilepsy. So we gave him meds and he would have them every once awhile. Well due to having that he had devolped a heart murmur. And that took a little pep out of his step. But he was still a ball of love.

A little after he turned 10 We had got a puppy from a friend of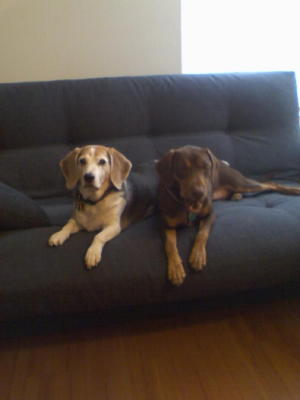 mine who saved a female beagle from being abandoned. Well we were worried about sonny being a little jealous due to him being an only dog. That was not the case at all, he took the buster under his wing and the two were never away from each otheove and happiness. He was a wild one when he was younger, did it all from eating shoes to stealing napkins out of the trash. When he was a little over 5 years old he suffered his first seizure, and was diagnosed with epilepsy. So we gave him meds and he would have them every once awhile. Well due to having that he had devolped a heart murmur. And that took a little pep out of his step. But he was still a ball of love.

A little after he turned 10 We had got a puppy from a friend of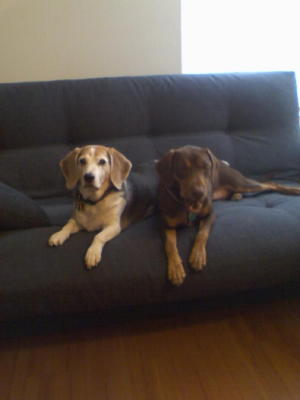 mine who saved a female beagle from being abandoned. Well we were worried about sonny being a little jealous due to him being an only dog. That was not the case at all, he took the buster under his wing and the two were never away from each other. Sonny was never in a crate until we got buster. That ignited a spark like I have never seen in a long time. Well the two were now called the dynamic two. They got in trouble together. I tried putting a pillow in the crate, that was shreaded. They would play tug a war all around the house. My wife and I noticed that after we got buster, sonny never had a seizure again.

Zeus
We lost our beloved Zeus on February 6th 2010. At 6 years old he was already considered elderly for a Great Dane, when his hind legs begin to give out. We found him in July of 2006 on Petfinder.com and it was love at first sight when we went to the shelter to meet him. From that point on he spent every waking minute making sure we knew how much he loved us and how grateful he was for us. If he could have spoken, he would have told you that his 3 and a half years with us, were the best ones of his life.
It's funny, sometimes 3 and half years is considered a long time, like when you are supposed to graduate in 2 years and it takes that much longer. But in this case 3 and a half years went by so quickly. 3 and half years was not enough time with him.

We will always love you and miss you, Zeus. Thank you for your unconditional love and devotion. Rest In Peace

Meet Roxy my beloved little beagle. We rescued her from our local humane society in September 1993. She was the best little dog a person could ask for. She was like my shadow. When I would work in my office she was usually at my feet. If I would get up to go get a drink or do something else she followed. I know she loved me as much as I loved her. Unfortunately she crossed the Rainbow Bridge on January 23, 2010. She was 16 ½ years old. I am still devastated. I miss her so much. Roxy you were the best and I will miss you forever.

Sugar

Born June 26, 1997

Passed away April 5, 2010

From the moment I first saw Sugar I knew she was special. A sweet and lovable soul,

never far from my side, even at the end.

She loved going out on our boat she would sit next to my husband as if giving

directions. Her favorite thing to do was open her own presents, at Christmas.

We will miss her gentle ways, and love her dearly. There is nothing that can

ease the pain of an empty house when I come home from work. We know you were

in to much pain to stay, we will never forget you, Thanks for being our Sug Sug.

Love Bob, Theresa, Rob, Eric and Tommy
Daisy Dog Nicolai: Spring of 1995- May 4, 2010

Daisy was a dog known by many names. Here are a few: "Baby," "Plump-Plump," "Noodle," "Daisy-Mae," "Hotdog Gum-foot," "Captain Wet-Butt," "Pup-pup," "Momma's Treasure," "Hound of Renown," and "It's YOU! My only YOU!"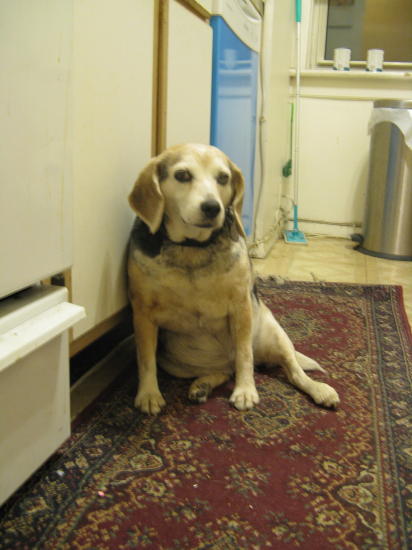 While much about her life before 2005 remains unknown, we know she had at least 1 litter of puppies, tracked scents, messed with/teased outdoor cats, hunted rabbits, raided trash, and always loved to be outside. Just in case she might go hunting, she kept a dead mouse stored around the house to roll in to disguise her scent. How she got the dead mouse we never figured out, but she had a few stashed away in empty guitar cases over the years. She was terrified of thunder, loud noises, and the smell of lamb chops cooking. Very skilled at begging, she never wanted for food. Daisy was also very smart, capable of deception. She tricked Marie (her "step sister," a 4 year old beagle who is very silly, loving, and charming but not smart) out of the softer of 2 dog beds by approaching her with a vigorously wagging tail, as if she wanted to play, resulting in Marie vacating the bed in playtime excitement, freeing it up for Daisy to get into. Once Marie realized what happened she looked sad, yet fell for the trick again (!!) before simply exiting the bed at Daisy's request.

Daisy was committed to survival. She didn't know defeat, it wasn't in her lexicon. Over the past 5 years she beat ovarian tumors, pancreatitis, terrible ear infections, and battled cancer. She lived with benign growths between her heart and lungs for 2 years and did her very best to cope with coughing and shortness of breath. Shortly before her death she also had cancer in her rear left leg making it difficult for her to walk. Despite struggling to breathe, walk, hear, and see, Daisy was happy to rest on the couch and eat; she enjoyed every meal. She was a wonderful friend, companion, and dog. She aimed to please, to be a good girl, and was wonderful to have sniffing around and tap dancing with her long toenails on the hard wood floors. She will be dearly missed. As I told her many times, "Daisy, the only dog for me will forever be you." Many, many thanks to everyone who made her wonderful life possible.

SPARTACUS ("Sparty") GINTHER, 10, MUSE AND BON VIVANT

–Not the New York Times News Service—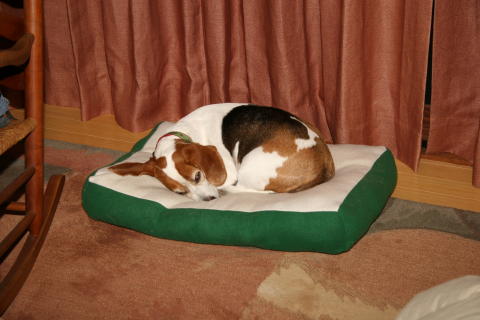 Spartacus Ginther, the occasionally lively and always amusing Beagle, died on Thursday, May 13, 2010, at Hillsdale, New York. He was 10 years old.

Spartacus, known to all and sundry in New York City and Columbia County as "Sparty", had been in good health. On that beautiful spring day, Sparty had been running free on his property and, with great concentration, sunning himself on his deck. But he had come inside with a limp, lay down on a bed made–not surprisingly–just for him, and appeared unwell. Shortly after, he passed away at the veterinarian's office, apparently having suffered heart failure or a stroke.

Sparty had enjoyed a full life, or at least as full as he was interested in. His agents, chefs, valets, butlers, and an occasional trainer always attended to his needs. Which in reality were few but deep: tasty food served regularly and often; sleep: deep and long preferably on soft furniture coveted by humans and in spots blessed by warm sun; constant and deeply felt affection bestowed with gratitude by his agents and servants; and, (on occasion) exercise, even at times exercise in which he participated.

Sparty was a dog of many talents and accomplishments. He had won the affection of countless humans in addition to his agents and servants and including chance encounters on city sidewalks. Sparty took particular pride in the bestowal of the Best In Show award in February 2008. (Or maybe he didn't … it is not always easy to tell with Beagles.)

Sparty's agents, Ray and Marie Ginther, were devastated. "Sparty was the best dog in the whole world!", lamented Ray. Marie worried that Whole Foods and Lobel's Prime Meats might not be able to stay in business without Sparty's patronage. "But those many shopping trips, lugging heavy bags of food home for Sparty were labors of love," cried a tearful Marie.

Sparty's huge and creative sense of humor not only provided much of his adopted family's entertainment, he inspired Matt, Sparty's butler (also a son of agents Ray and Marie) who had developed a dry and deadpan sense of humor clearly derivative of Sparty's. "I learned from Sparty that funny lines and funny acts are best if the speaker appears not to notice they are funny," said Matt who is now casting about for a muse of comparable talents. "I despair of finding another as inspiring as Sparty," he said. He and his girlfriend Emily were privileged to be at Sparty's bedside to be of comfort and witness his last "woof's".

Tommy, Sparty's valet and sometime trainer, (also a son of Ray and Marie) is an accomplished hockey goaltender. He credited Sparty with all his success in that sport. "I learned first from Sparty that bulk was essential. He then taught me that the most important players in many sports were the one who had to move the least. He often asked 'Hockey centers and forwards must move all the time – but do they get fed any more than the goaltender?' He said I could also be a baseball catcher but catchers had to go back to the bench at least nine times a game while a goalie only had to go back three times in a game."

Sparty began life on February 29, 2000, which technically made him only 2, but Sparty found that too confusing and, besides, did not want to miss three birthday cakes every four years.

His first home with his agents and servants was in an apartment at the corner of Madison Avenue and 94th Street where he found many, many admirers in the lobby outside his door and on the sidewalk. However, at about the same time, another "Spartacus", a pretender according to Sparty, took up residence in the building. As if the attempt to aggrandize his name were not enough, this second "Spartacus" was a hyperactive Jack Russell terrier – an embarrassing breed to the dignified Beagle. And not least of all, the new Spartacus had never even enrolled in Michigan State University, much less graduated from MSU as had Sparty (although as a stealth student).
Sparty convinced his agents to move to the rarified air of a penthouse at East End Avenue and 79th Street where he spent many enjoyable days when he was not at his beloved country homes. Sparty was buried on that lovely country property and a memorial sunset maple tree was planted on the spot.

Sparty is not survived by any canine offspring. In his early years he expressed regret at not being able to sire puppies, but later he confessed that they would have been competition for food and affection and would have interrupted his naps.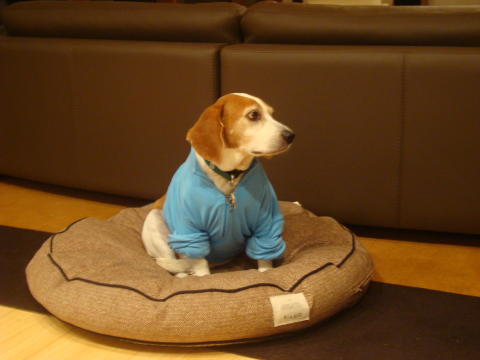 His family has requested that in lieu of flowers, we all stockpile dog treats to take with us when we join Spartacus in the great beyond where he will be waiting for us with pleading eyes and his enthusiastically wagging tail!




Thanks for the love, fella.

We rescued Bandit from a home near ours. He did not have enough room to run. Unfortunately he liked to run so much that he ran into the road. Bandit was my best 4-legged friend. He was great to just lay down with, and also to play with. Bandit is great missed by myself, my husband, and my kids.
Thanks so much for having this pet cemetery. It feels like he can really rest now.

Maggie
Awhile back i posted a comment on my beagle "maggie" on your page, under"My beautiful old beagle", i never had the chance to send a pic till now. Sadly,Maggie left us yesterday morning, peacefully at the age of 12. She was my puppy, my companion, & most of all, my friend...she will me missed terribly !
Dorothy Litch
Neptune, NJ

My very sweet baby beagle boy Elmo was 14 ½ when he passed away December 19, 2010 from complications due to a brain tumor.
I miss him terribly and I will always love him!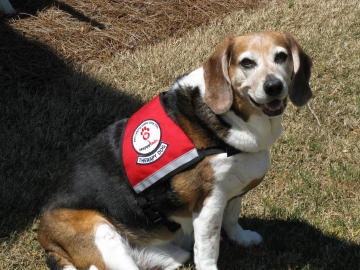 Lisa Gabriel

August, 1998-February 28, 2012.....I lost a friend who was my constant shadow for 13 years and was with me through major life changes. I will miss you Chelsea Beagle.
Missouri was the love of our lives and she will always hold a special place in our hearts.
We miss her everyday.


June 2002 - October 2012

Our beloved beagle, Winston, was born
on10/18/07 and passed on 10/12/12.

We miss him dearly, he will forever be with us. xoxo
Talbot

November 29, 2008 – August 25, 2016

Our sweet and loving beagle passed away unexpectedly, but peacefully at the age of 7.

Talbot brought great joy and happiness to our family. He came to us as a 6-week old puppy and left us as an unforgettable member of our family. He taught us the meaning of unconditional love, a lesson that strengthened us as individuals, and as a family. Whether we were gone for an hour, a week or a month, he would greet our return with unbridled enthusiasm and affection. No human will ever match the bond he made with each of us.

There were other lessons we learned from our relationship with Talbot. The zeal and gratitude he expressed for his twice daily meal of kibble demonstrated how one should feel about the kindness and caring given to us each day. His need to sit or lay right up against us revealed the power of physical contact as an expression of love. Sleeping in or next to our beds delivered the sense of security each of us know we need. The obvious nervousness he displayed when taken to grooming reminded us to reassure others at times of uncertainty.

Talbot had many friends – literally everyone with whom he came in contact. His bright eyes and wagging tail drew them to him. Their affection for him was a joy to watch and made him all the more affectionate to others. Those of you reading this who knew Talbot should know that his boundless love included you.

Perhaps the greatest lesson he taught is that
we should each try to be the kind of person that Talbot thought we were.