Victoria

To my dearest and sweetest beagle angel of my life, Victoria. May The Lord take care of you a million times better than I ever did. I don't think I will ever get over your passing away. How I wish we could walk in the park together again in this lifetime. I love you so much, my angel.
Your Beagle Daddy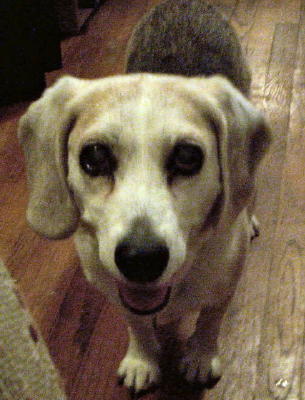 04/01/1992 - 02/28/2007

Katy was adopted from the Houston Beagle Rescue in 2000. She died just one
month shy of her 15th birthday. An aggressive cancer forced us to put her to
sleep on February 28, 2007.

We will miss her enthusiastic bay, and the way she would get as close to the
ground as she could before pushing up with her paws and a lovely "arooooo!".

We will miss her gentle spirit, taking everything in stride. She once fell 10
feet from an elevated sidewalk. Her mom was in hysterics; she didn't seem to
notice, and kept on trotting, enjoying her walk. She once scratched her ear
until it bled internally, causing it to fill up like a giant balloon on the
side of her head, and she acted as if nothing more had happened than if she had
gained a little weight on one side of her face. After she lost her sight and
hearing, she would simply walk until she gently bumped into something, adjust
her path, and continue on her way. Children would place themselves all over
her; she simply lay there in her zen way, unruffled and content.

She had a beautiful face that glowed, soft fur that comforted the hands of those
who pet her, a cute waggly butt and tail, innocent little paws that she offered
in friendship, a happy gait when she walked and a thrilled look when she ran.

She found shelter in the closet, under the bed, on the bed, on the couch, in a
corner, near the heater, and by our feet as we worked at our desks. She would
roll into a precious doughnut, impersonate Superman by lying flat on her
stomach with her legs outstretched, or lay her head in her paws.

Her appetite was fierce. If given a chance, she would eat everything and anything,
and, when given a bone, would enter into a room where the carpet would help
her prop it up so shecould gnaw on it to her heart's content.

We will miss her trusting heart, her faithfulness and loyalty, her unconditional
love, her constancy and patience, her love of life, and her graceful and serene
being.

Dennis and Leah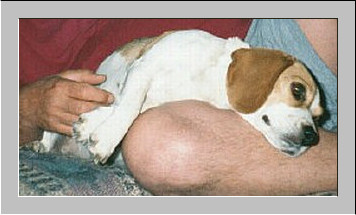 Daisy Brown
4/29/1996 - 11/9/2006


This is our beloved Daisy doing one of her favorite things: Watching TV with her "Diddy" (my husband) while he rubs her tummy. She also loved her big fenced-in back yard with its big trees, families of squirrels, and chirping birds. It was her "kingdom". But, Daisy spent most her time in the house with us -- my husband, our daughter, and me.

We brought her home when she was 6 weeks old, and from the very beginning, we could tell that she was going to be a very important part of our family. Daisy had her own big, comfy "bed-bed" in the family room with lots of toys, but she loved sleeping with our daughter, until our daughter left home to go away to college. I remember how she sat on our daughter's bed and cried (yes, cried!) the first few nights she was gone. So, we let her sleep with us. She would hop up on the bed (her last few years, we would pick her up and place her down), dig under the covers between us, crawl down to the foot of the bed, turn around, and come back up so that her little black nose and eyes were peeping out. She was, indeed, our baby.
Daisy had several nicknames: "Daisy Lou Who", "Daizer Do", and "Doozer" just to name a few. Whenever friends and family would come over, she just knew they had come over just to see her. She loved everyone and everyone loved her. Daisy was the sweetest dog you can imagine and just loved hugs, kisses, and belly rubs. She would readily flip over and stretch out on her back on the sofa. Daisy was definitely the "Queen of the House".
At age 10½ years, she developed lymphosarcoma -- a particularly aggressive form of cancer -- in the autumn of 2006. She eventually stopped eating and we had her put to sleep. It was the hardest decision my husband and I ever had to make. We were both with her when she passed. We had her cremated and her ashes are in a little brass urn in a bookcase in the family room by a beagle figurine. We plan to scatter them under her favorite tree in our back yard on her birthday.
We will never forget her and will always thank God for letting her be a part of our lives.
BART
March 5, 1991 - June 22, 2007
Our precious Bart, you will never know how much you made our lives complete. Now that you are gone, we have such an empty place in our lives. Our memories of you are what get us through the day. You were our best friend and got us through some real difficult times. I hope you know how much you will be missed and that you are not replaceable!
We love you,
Rob, Chris and John
Dixie
8/4/98-11/26/07
What a wonderful website you have on beagles, we just lost our Dixie
a week ago and I can't explain the heartache that we are going thru. She was a wonderful dog and a great friend. She was our second beagle, we got our first beagle Lucy in 1995 from the Teterboro animal shelter she was 12 and was an abused dog and was days away from being put to sleep, despite her age we took her home and gave her a happy and loving life with us for 3 years before she succumbed to cancer. The pictures I'm enclsoing are of Dixie and would like to share them with you, unfortunately we did not have a digital camera at the time we had Lucy. Thank you for letting me share this with you.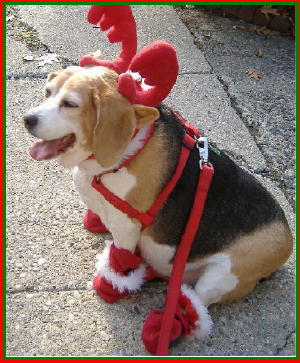 Sincerely,
Mary Genua
Cliffside Park, NJ
I recently lost my beagle, Major, (left) after
living a long and healthy 16.5 years.
I had to put him down, and even though it was one of the worst
things to go through, I can't wait for another puppy.
He was truly "Mans best friend" and will never be forgotten.
We lost our boy Sarge (right) three years prior. It's a quiet house without our boys.



Major - Born: June 6, 1991 - Died: Nov 20, 2007
Sarge - Died: 2004
MY NAME IS ANGELA, I BOUGHT A BEAGLE PUPPY ON DECEMBER 25, SHE WAS 2 MONTHS OLD, SHE WAS A CHOCOLATE TRI COLORED..BEAUTIFUL WITH GREEN EYES..ON DEC 31ST SHE DIED, WE ARE NOT SURE WHY..SHE WAS ONLY WITH US FOR 5 DAYS BUT WE FELL IN LOVE WITH HER AND CRIED A LOT WHEN SHE DIED. HER NAME WAS MOKA

"1996 - 2007"
Addie was more than a beagle; she was our best friend, our child. This lemon and white little girl gave us twelve of the best years of our life. She loved everyone that crossed her path regardless of what I may have thought of them, and that taught me something. In her final days she wanted to snuggle with my wife and I. She didn't want to leave but the Lord called her home. She is missed terribly and no dog will ever fill the hole she has left in our hearts.
Chase that bunny girl until Rose or I can carry you home again. You are loved and never forgotten....... Myron and Rose Ann
Dear Terry,
While surfing the net I came across your website. I was searching for other old-timer beagles like the one we had. Sadly, today our much loved beagle, Repo (story below), was put to sleep after living a very colorful and fulfilling life. He was born the same month my husband and I started dating - 18 years ago last month. My parents bread beagles, so he was in our lives from his birth.
He was the original party animal (I said he had a colorful life!) He was a college dog - and shared many memories with my husband (then boyfriend) and his roommates. We always joked that the secret to his longevity was that his liver was pickled. He had a taste for beer in his younger years, you see. Everyone knew Repo. Those friends couldn't believe hearing Repo was still alive so many years after those college days.
One funny story was from about 12 years ago. We left Repo in the garage one day and didn't realize that there was a few beer cans left in his reach. After returning home, we found him in the garage, sitting in the middle with quite the funny expression on his face - shaking his head clumsily. Near him there was a beer can with what looked like vampire teeth marks in it's side. The can was empty. Now we know that beer is not considered the most healthy thing for dogs or any animal. But, Repo had a lead stomach and had consumed his share of unhealthy things. Whatever the case, he continued to live and live and live.
His name? Well, he was given to our minister as a gift, but a couple of months after he had to return him because the neighbors were complaining he was barking too much. So, my father said we repossessed him and the name stuck - hence "Repo". It was shortly after then that my father gave him to us and the rest is history. He's been there for every moment and event my husband and I ever went through together.
Well, Repo kept going like the Energizer Bunny but time and age finally caught up to him. His quality of life was failing quickly and his little body wouldn't carry him any longer. So in grand style - like his party years from long ago, he had his last taste of his favorite drink (just a little) and we said our goodbyes. My husband took him to our vet one last time.
We'll miss him dearly, but the stories and memories we have from his colorful life (and there are so many many more wonderful hilarious stories) will keep us smiling for years to come.
Thank you for letting me send this to you, a complete stranger, but an obvious lover of the wonderful beagle. This is like his eulogy - one he really deserved.
Repo
1/24/1990 - 2/1/2008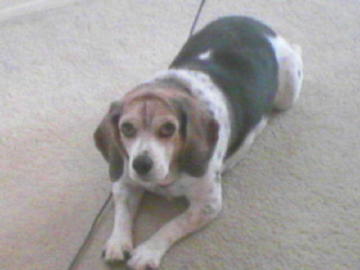 Candy B.
April 6, 1997 - October 26, 2007
The kindest, loyal and most loving dog that anyone could have asked for, she could have been known as "The Kissing Bandit" because she just loved to kiss anyone in sight. After Candy's passing I can imagine her waking up feeling much better, walking, running and pain free. I can vision Candy meeting our previous dog Mandy and telling her that in a way they are sisters even though they never met. I can imagine Mandy telling Candy that she has crossed over the "Rainbow Bridge" and that there is plenty of food, water, sunshine and friends to play with and how much she is going to like it there.
Forever in our hearts.
Irwin and Cory Baron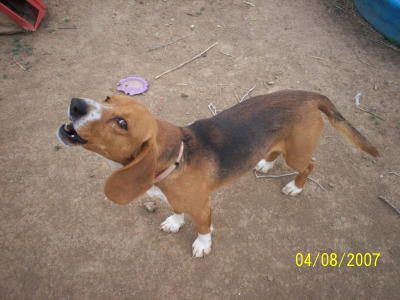 Forrest, my big handsome boy. You may be gone, but you will never be forgotten. You may have been 3 years old physically, but evidently you forgot to read the memo that was sent that you were no longer a puppy. I'm happy you are at peace and you are now eating like a beagle should. I catch myself thinking its time to hand feed you what little food you would eat for me.
Avalanche has been looking for his brother to play with and is quite mornful in his singing when he can't find you. I also think he misses that puppy bay that never developed into a adult bay.
Be at peace and run free at the bridge. Who knows maybe you will get to catch cats and rabbits there and be totally happy. Love, Mommy Sabrina

Forrest will also be missed dearly by New Jersey Beagles, and the members of the New Jersey Beagles Discussion Forum.
Charlie

Charlie was the sweetest, kindest, and most lovable dog we've ever had. He touched not just our lives but the lives of others. Sadly, at 17 years old, he passed away on April 4, 2012 .

"Charlie, you will live in our hearts and be remembered forever."

Pumpkin was found abandoned and roaming on the street of a nearby suburb of Atlanta, GA in December 1998. He had heartworms and a broken pelvis but a sweet and gentle
demeanor. The vet guessed his age was about 1 or 2. I took him into my home and nourished him with love and affection, and day by day, he started to come out of his shell and trust me, my family and my friends. He saw me through so many moments, good and bad, but mostly good. Always my shaddow, following me where ever I went. He has been the sweetest, most amazing dog with a good and honest soul. About a year and a half ago, he started to have incontinence. His eyes started to cloud before that and some of his hearing was starting to go. But he still enjoyed his food and wagged his tail endlessly. I love my Pumpkin immensely. He needed a loving home and I gave it to him, but he has given me so much more.

Pumpkin passed peacefully at home on November 21,2012.
Pumpkin, you will live in our hearts always.
We love you.
Our Penny Girl
2000 2012

Penny was my soul mate and companion.
She was loving and beloved. We will mourn
you and miss you very much.
.