Sparky Santora
2/18/95 - 7/23/05


Our Sweet Beagle Sparky. Sparky is sadly missed by her family. She has a special place in all of our hearts and will never be forgotten.
Mama Cat Petersen
July 1990 - January 29, 2006


Mama Cat was the first official winner of the Petersen Cat Lottery. She was a feisty girl who did things her way. During her outside years she was always happy to bring her family her kittens for safekeeping, dead birds to show her appreciation, and live mice for our entertainment. Once inside her hunting instinct never faltered as we learned when she ate our pet bird, who happened to get out of it's cage. She watched my brother and myself grow up from little kids into the adults we are now. She watched us come and go and finally move out, but whenever we came home she always knew who we were and was happy to show us some love. She was my mother's companion, sleeping in bed with her until she was a little too old to compete with the others for space. Mama Cat was a wonderful cat, the first family pet we ever really had. Her love was endless, her kisses were few, and the appreciation she had for her family was overwhelming. We will always love you Ma Cat, you're such a pretty girl.

Love Always,
Kirsten, Barbara, Danny, Daniel, & the rest of the lottery winners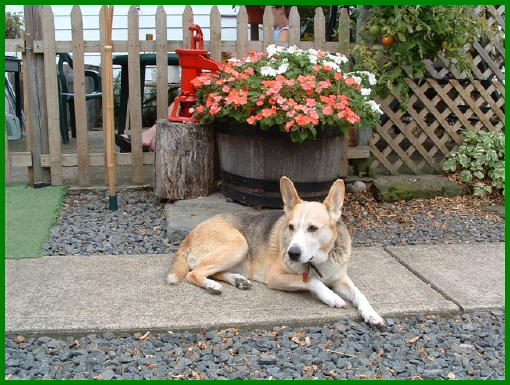 TO MY SWEET DOG, " RIO "
NOV. 1992 - FEB 18, 2006.
YOU WERE THE MOST WONDERFUL FRIEND, PROTECTOR, COMPANION AND BEST DOG THE WORLD WILL EVER KNOW. I WILL ALWAYS MISS YOUR SWEET FACE, SOFT EARS AND BEAUTIFUL EYES. I WISH I COULD HEAR YOU BARK JUST ONCE MORE. I WANT TO THANK YOU FOR EVERY PRECIOUS MOMENT OF YOUR THIRTEEN YEARS WITH ME. I WILL NEVER FORGET YOUR LOVE FOR ME AND I WILL LOVE YOU FOREVER. PLEASE BE WAITING WITH YOUR TAIL WAGGING WHEN I COME TO JOIN YOU.
I LOVE YOU RIO, MOMMY (TONI REGGIE).
---
" BEAR " REGGIE 1999-2008
I FOUND YOU IN MY BACKYARD IN MARCH OF 1999 AND YOU LEFT THIS WORLD SO UNEXPECTEDLY ON SEPTEMBER 18, 2008. IN THOSE TEN YEARS YOU'VE TAUGHT ME WHAT A WONDERFUL, LOYAL AND LOVING FRIEND A CAT CAN BE. I CANNOT EXPLAIN HOW MUCH I WILL MISS THE WAY YOU "TALKED" TO ME, SHOOK HANDS ON COMMAND (AS ONLY DOGGIES DO), KNEADED THE BACK OF MY HAIR UNTIL I FELL ASLEEP AND, MOST OF ALL, HOW YOU SLEPT WITH YOUR TINY ARM AROUND ME ALL OF THE TIME. I WILL LOVE YOU FOREVER AND I WILL NEVER, EVER FORGET YOU. THANK YOU FOR CHOOSING ME TO LOVE. RUN FREE WITH RIO UNTIL I SEE YOU AGAIN MY BEARSY. I WILL ALWAYS LOVE YOU.
YOUR MOMMY, TONI
Isabel Reggie" Aug. 18, 2003 - Aug. 19, 2011
MY SWEET IZZY: I HAD TO SAY GOOD-BYE TO YOU YESTERDAY AFTER EIGHT SHORT YEARS AND IT WAS SO HARD. I WILL NEVER FORGET YOUR SWEET VOICE AND ESPECIALLY HOW YOU SLEPT WITH YOUR LITTLE FACE SNUGGLED UNDER MY CHIN EVERY SINGLE NIGHT. RUN FREE MY IZZYY. I'LL SEE YOU ON THE OTHER SIDE. I'M SO GLAD I GOT TO SHARE YOUR LIFE. I' LL NEVER FORGET YOU AND I LOVE YOU FOREVER. YOUR MOMMY, (TONI REGGIE).
---
In Memory of Toby
1992 - 2006

Today was one of the saddest days of my life. We put Toby to sleep today. I am overcome with saddness and the feeling of loss. I know it was the right thing to do, she was suffering. But it still hurts so much. I miss her. She was one of the best dogs I ever owned. Sue

Toby will also be missed dearly by New Jersey Beagles, and the members of the New Jersey Beagles Discussion Forum.
TO MY SWEET DOG, STANLEY
AUG. 8, 1994 - APRIL 27, 2006
FROM THE MOMENT I BROUGHT YOU HOME AS A TINY PUP, YOU WERE THE BEST BOY IN THE WORLD. THANK YOU FOR YOUR LOVE, FRIENDSHIP AND COMPANIONSHIP FOR TWELVE YEARS. I WILL MISS YOU SO VERY, VERY MUCH. YOU WILL ALWAYS BE MY "BIG HANDSOME YELLOW MAN" AND I WILL LOVE YOU FOREVER. RUN FREE UNTIL I SEE YOU AGAIN. I KNOW YOUR TAIL WILL BE WAGGING WHEN WE MEET. I LOVE YOU STANLEY, MOMMY (KELLY HICKS).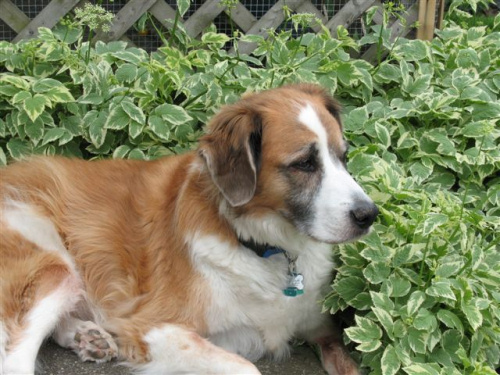 GEORGE
1995 - 2009
MY WONDERFUL BOY IS GONE AND I MISS HIM SO MUCH ALREADY. THANK YOU FOR BEING THE MOST FAITHFUL FRIEND AND COMPLETELY LOYAL COMPANION A MOMMY COULD HAVE. YOU WERE THE MOST WELL BEHAVED, CALM, BEAUTIFUL LOVING DOG ANYONE COULD HAVE ASKED FOR. I'M SO GLAD YOU CHOSE ME TO BE YOUR MOM. I WILL MISS YOUR "SMILE" AND WE'LL MISS CALLING YOU BY YOUR NICK NAMES : "GEORGIE-PORGIE AND JUJUBEE". FLY FREE MY HANDSOME, HANDSOME BOY. I WILL SEE YOU ON THE OTHER SIDE AND I WILL LOVE YOU FOREVER, MOMMY, KELLY HICKS.
Toby and Casey
"Passed 2004"
I'm so glad that I was with both of you to the end. I know you both went peacefully and your suffering is now over. You will be sorely missed, and will always be a part of us forever.
Jackie

We had to put our baby girl down 2 weeks ago - she was in tremedous pain -

It has been really hard - in just 3 weeks she had become the shell of herself - which was hard.

She was beautiful and will be dearly missed by us.
Goodbye Sweet Jackie

BUSTER
7-26-2002 to 8-19-2006

My heart is broken forever after suddenly losing you. You had a hard start to your life but at least the last 3 years you were taken care of and loved more than you will ever know. The house is empty with out you and you will be forever part of our hearts - have fun in heaven and save a place for us.
Love always and Forever,
Mommy
This is My Brandy Girl, I called her Squeeky Magee. She was born in upstate NY on a Beagle farm on February 4th 1992 and came home with us in March 1992, she died on October 25th 2006. Brandy was almost 15, and lived all of her life in the mountains of Pennsylvania. She loved her
yard, her dog house, her adopted sister Talia, her cat companions, but mostly, she loved us. She was my pretty girl, and she knew it!
Brandy was such a big part of our family that every day that passes without her seems like an eternity. We all miss her terribly. Not a day passes that a tear doesn't drop for her. The house is not a home without her here. Talia misses her a lot to. Every day she waits by the door for Brandy to join her in the yard. We're all very sad as we deal with this empty hole we all share in our hearts for our lost love.
With all our love, we say goodbye to our girl. We love you and miss you! You will live forever in our hearts and memories as we carry you throughout our lives.
Love Mom, Dad, Gia and Richie, Grandma S, & Talia, Maggie, Bear and Neo
Chippie




1992-2006



The house is too quiet without you, my friend. Oh, what I would give to hear that beautiful howl. You were the best companion and friend.You took a piece of
all our hearts when you left, but forgotten you will never be. I dropped some crumbs on the floor today, and thought I didn't have to pick them up, that you would come running for them. We miss you so much our hearts hurt. Thank you Chippie for all the wonderful times
you gave us. Thank you for being such a beautiful spirited dog.
We will love you always and forever.
Christan
1992 - 2006
Christan, I want to thank you for the love and friendship you have given me for fourteen wonderful years. Through the happy and sad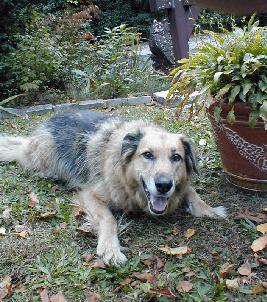 times, you were always there for me. I will love and remember you for all of my life. I will see you again and I know you'll be waiting with your tail wagging. Run free, my boy. I love you with all my heart. Love, "Daddy", Paul Reggie.
Mollie

Mollie and her buddy Jake

I am thankful that I was able to be with Mollie and hold her when she passed. It is an experience that I will never forget. Mollie brought such love and happiness into our family, and for that, I am forever grateful to her and to the Arizona Beagle Rescue for allowing her to come into our home. We only had her with us for 11 months, but it feels more like years. Mollie was loved and well cared for since entering our home and will be greatly missed.